Description
Welcome to Divi Ultimate – The only All-In-One Premium Divi Child Theme you need. MEGA SALE 30% OFF!
Divi Ultimate is based on our 10+ years of experience in web-design, web-development, web-marketing and e-commerce. With Divi Ultimate you can set up any kind of website for all kinds of businesses like e-commerce, online shop, online store, agency, hotel, apartment, company, etc.
Buy now the beautiful, multipurpose and versatile Divi Ultimate and take your or your client´s website to the next level! Setting up a new, converting and amazing website has never been easier and more effective.
Divi Ultimate comes with a detailed step by step video and image documentation →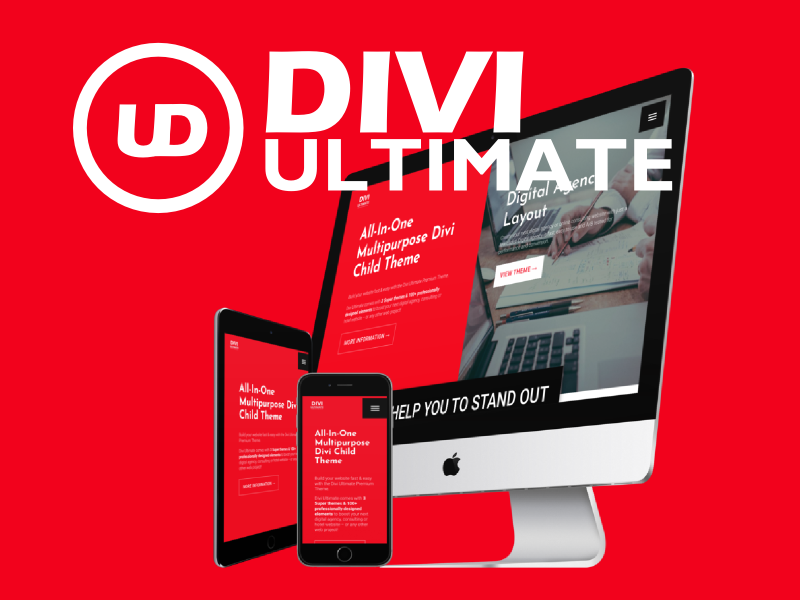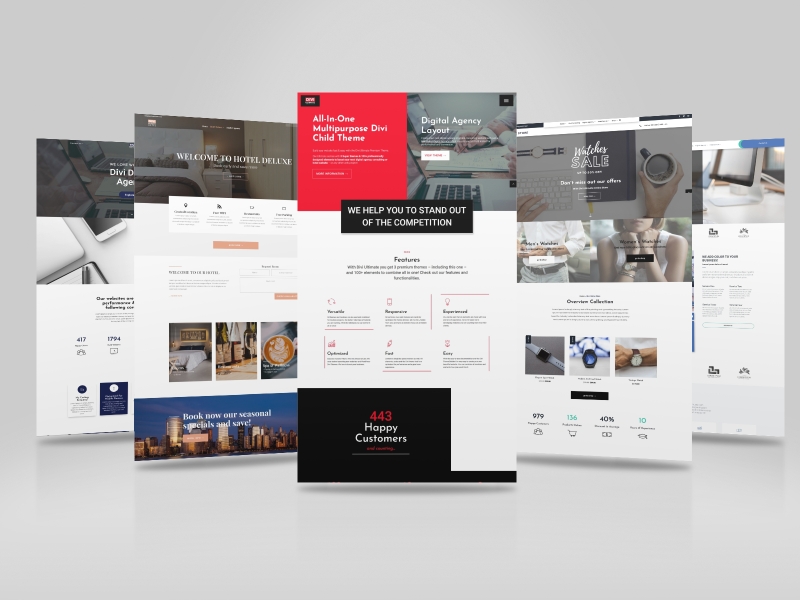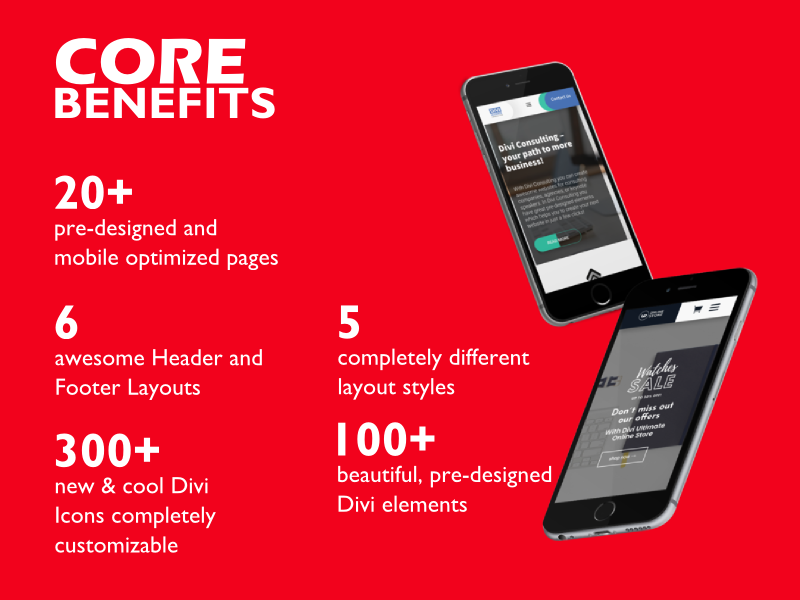 Divi Ultimate comes with following core features:
✓ 100+ beautiful pre-designed elements like buttons, contact forms, text fields, counters, sliders, header sections, call to action modules, testimonials, teams, reviews and so many more…
✓ 20+ amazing pre-designed pages
✓ 6 Header Designs with special focus on mobile menus with fixed to top elements like call to actions, menus, woocommerce carts, marketing messages, etc.
✓ 6 Footer Designs
✓ 4 completely different theme styles for the pages. Divi Ultimate is split into following 4 individual super themes : Divi Ultimate, Divi Ultimate Agency, Divi Ultimate Hotel, Divi Ultimate Online Store which represent those businesses and characters.
✓ Optimized for SEO with integrated Breadcrumb Function
✓ Divi Ultimate is completely 100% responsive and optimized for mobile devices.
✓ Versatile and Multipurpose structure which allows you to combine any of the 20+ pages, 100+ elements and 6 header & footer designs with each other. Just drag and drop the element you want in the page where you need it.
Divi Ultimate is the first choice when building up a new website for you or for your client – all areas and elements are A/B tested for performance and conversion rate. That allows you to not just build a beautiful website within minutes but to also build a website that produces revenue and results for you or your clients.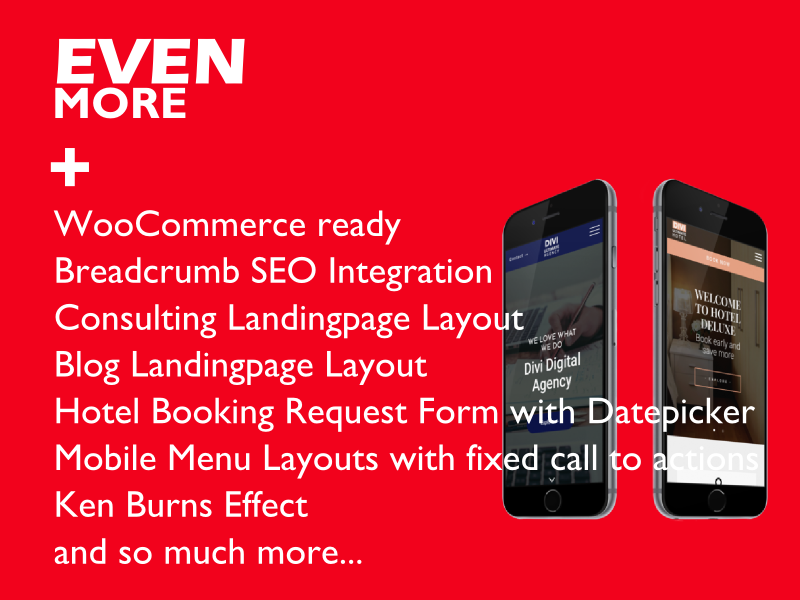 Overview Divi Ultimate Structure
Divi Ultimate Core (red + black colored)
✓ 2 eye-catching pages for Home and Services. Divi Ultimate Core contains all other themes and is presenting them on https://diviultimate.divi-themes.com
✓ 1 amazing Header and Footer design with a very prominent hamburger menu already on desktop and a slide in menu which opens from the right side by clicking
Divi Ultimate Hotel (black + green colored)
✓ 5 professionally designed pages for Home, Rooms Overview, Rooms Individual, About Us and Contact Us
✓ 1 awesome Header & Footer Design which has been made just for this layout. The header comes with a call to action and a collapsing mobile menu
Divi Ultimate Agency (black + dark blue colored)
✓ 5 great looking and converting designed pages for Home, Services, About Us and Contact Us
✓ 1 very rare and great looking Header & Footer design with a hamburger icon already on desktop, call to action and collapsing submenu which opens from the top
Divi Ultimate WooCommerce Online Store (black+ white colored)
✓ 5 handcrafted pages for Storefront, Individual Product, Product Category, Cart, Check Out and Members Account
✓ Also, this theme comes with beautifully and individual designed WooCommerce styles for Cart, Check Out and Members Account
✓ 1 cool Header & Footer design including cart. The header design has great and converting features for desktop and mobile version
Divi Ultimate Blog Layout and Divi Ultimate Consulting Landingpage Layout
✓ Beside the 4 super themes, Divi Ultimate also comes with a fine layout for any kind of blogs and a converting landingpage layout in style as a consulting agency.
✓ The blog layout is great to show your content in a nice and fluent way. The big image placeholders allow you also to surprise your readers with beautiful images